MONTECRISTO is a pioneer food industry in the elaboration of products through the transformation of Andean cereals, with national and international market Quality Certification.
Montecristo has:
Certifications of organic products issued by
Certification of Good Manufacturing Practices issued by TUV Rheiland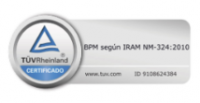 ISO 9001 Quality Management Certification issued by TUV Rheiland
Quality Policy Montecristo Bolivia S.R.L.
MONTECRISTO BOLIVIA S.R.L. is a company dedicated to the elaboration of food products derived from soybeans, oilseeds and Andean cereals, fortified with vitamins and minerals, that considers QUALITY as the most important aspect in its production chain, therefore it assumes its commitment to:
Elaborate, control and maintain the quality of our products, amply satisfying the expectations of our customers and at the same time allowing us to enter national and international markets.
Elaborate new products, according to the needs and opportunities of the market, fulfilling our commitments to the client and relevant legislation, having in mind our final consumers' health.
Develop the continuous improvement of the processes in our production chain.
Permanently increase our efficiency and effectiveness through training and development of our staff.
Comply with the requirements of the quality management system.
Establish this Policy, so that it is known and understood at all levels of the company.
César Peñaloza Antuña
General Manager
Code: PO-SG-PC-01. Version nº: 02. Date: 10/01/18